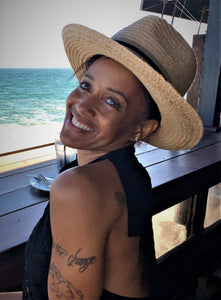 MEET CASSIE
How I found my next Purpose...
Wow! I never thought I would create skincare products, but here I am with a skincare line that makes me so proud!
I am in the health and fitness industry and have competed in many figure shows from ages 35-53. As a personal trainer, exercise and eating healthy have been part of my daily routine and I didn't realize the products I was using for my skin were harmful. Sadly, my skin did know, and it was reacting badly. 
In 2018 at the age of 54, I had enough of spending money on products that were causing my skin harm. Even though I was using 'premium' products, they were not effective for me. I suffered from hyper-pigmentation and breakouts - I wanted natural products that had everything I needed for simple skin care.
Your skin tells the story of who you are...
I had experienced some adversity in my life which showed up on my skin. I had insecurities, and was less confident in myself because of this issue.
Building on a lifetime of health and wellness knowledge, I decided to immerse myself in finding solutions for my personal skincare. I was on a mission to save my skin. 
I wanted a solution that used natural oils to help heal and preserve the skin. A solution that was gentle. A solution that was made with love, was effective and had powerhouse ingredients to heal the skin and make it glow. 
After researching and experimenting with different combinations of cold pressed oils, I found blends that improved my skin's health. Each ingredient was carefully selected for specific benefits and my skin visibly improved! I started sharing my products with family and friends and was delighted with their feedback. Realizing my products could benefit others - Alavina was born.  I believe less is more and healthy skin can be achieved with just a few simple steps.
My mission is to create products that are natural and healthy while nourishing the body and the mind so you can get your glow on!
Cassandra Grossman CEO/Founder