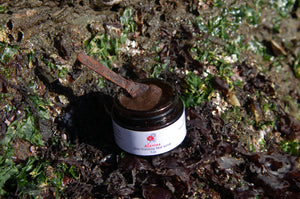 Benefits:
Clears away dead skin cells and draws out impurities 
Loaded with antioxidants, vitamins and antibacterial ingredients 
Crafted to rejuvenate skin to its natural glow
Enhances absorption of your skin care products
Skin conditioning agents which may help reduce inflammation 
Smooth the skin tone and texture
How to use:
Mix the scrub before each use to keep it saturated. Using the spatula, scoop a small amount onto your palm.
Apply wet finger tips to the scrub, then massage gently on damp face making sure to avoid the eye area. 
Rinse off with warm water or use a wet warm soft face towel to remove any remaining scrub
Once the scrub is rinsed, the oil left behind leaves the skin feeling smooth and moisturized.
Follow with a moisturizer or Alavina Nourishing Face Oil
Use after cleansing face. 1-3 times a week
Avoid using on irritated skin
If the scrub gets dry, the oil that is sealed in the scrub will moisture again when you use wet finger tips to form a paste in the palm of your hand.
Benefits of formulated Ingredients:
Black Rice: The antioxidant nature of black rice is effective in safe guarding the skin and may prevent damage by pollutants or sun. Black rice has anti-aging and oil-absorbing effects which makes it good for acne-prone and dull  skin. This rice also contains protein that will help in restoring elasticity and maintain firmness. 
Brown Sugar: This natural humectant contains anti-bacteria properties, and glycolic acid that keeps your skin radiant and healthy. Brown sugar exfoliates the dead outer skin cells while  leaving your skin hydrated for a shiny glow...
Chickpea: Draws out impurities, lightens skin tone and blemish marks. Full of antioxidants, anti-inflammatory, and acts as a PH balancer. 
Argan Oil: Moisturizes and contains healing properties including antioxidants, anti-inflammatory, antibacterial, Vitamin E and essential fatty acids.
Pumpkin Seed Oil: The nutrient content of this oil is something to behold; pumpkin seed oil has many skin benefits. High in Vitamin A, Vitamins B2 & B3, 

betacarotene,

potassium, magnesium and  Zinc, which help to support the health and structure of the skin to reduce the appearance of wrinkles and signs of aging.
     *  Mild aroma from: elderberry oil, mango oil and lavender essential