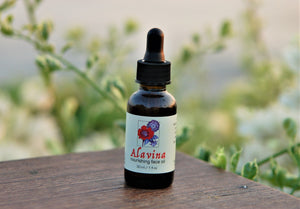 Benefits:
Lightweight and quickly absorbs
Provides vitamins, antioxidants and detoxifiers
Nourish and boosts the skins natural glow
Seals in moisture to soften the skin
Acts as a barrier against pollutants
Perfect primer for makeup 
It won't clog your pores
Helps keep the skin balanced-even for oily or acne-prone skin
How to use:
After cleansing apply four to five drops to the palm of your hand
May be applied to moist or dry skin
You may need more or less depending on the season
With your finger, dab the oil in small dots onto your face and neck, avoiding your eye area
Using the whole surface of your hands gently smooth the oil from nose to ears, eyebrows to hairline, neck to jawline
Less is definitely more. So need to go overboard 
You can also add a few drops to your moisturizer 
Use morning and night routine for best results
If you use a moisturizer, use the oil before the applying the cream
If you don't want your face to have an all-over glow, just apply only to your cheekbones, center of forehead and chin to give your visage a balanced glow
Benefits of the formulated Oil Ingredients:
Watermelon: Loaded with essential proteins, minerals, vitamins A, B and E.  The rich composition of fatty acids in this oil restores elasticity and smooths the skin. It also detoxifies, has anti-inflammatory and anti-aging properties that  may help improve your overall skin appearance.
Red Raspberry: This very potent antioxidant will moisturize, improve skin elasticity, increases moisture level and regenerate the skin cells. It also contains anti-inflammatory, vitamin A, E and protects against environmental damage. This oil will also boost hydration levels on your skin.
Pomegranate: Rich in vitamins B, B complex, C, E, K, calcium, magnesium, potassium, zinc and natural fatty acids makes this a power oil. This oil helps the skin retain its natural moisture, helps fight free radicals, aids in smoothing, firming skin and fade brown spots. Great for taming oil production in acne suffers. 
Jojoba: Mimics the skin's sebum and balances out your complexion. It also contains oodles of vitamins, antioxidants and anti-inflammatory properties.
Carrot Seed: Works as a supporting and protective agent that enhances skin health and repairs damage on skin that has been exposed to pollution and environmental stress. This oil may give the skin a clearer, brighter, evenly toned complextion.
Seabuckthorn: Has a beneficial effect on the skin because it is a strong antioxidant. This oil fights free radicals, rebuilds cells and delays cell aging, supports wound healing, reduces scars, inflammation, improves skin elasticity and structure. It also has a rgenerativeand anti-aging effect.
Maracuja: This powerful emollient is rich in vitamins A,E,C, anti-inflammatory,  and has a high content of essential fatty acids. It is effective in cell regulation and skin barrier repair. This oil is considered a good moisturizer.
Coffee Bean: Naturally helps build depleted collagen and elastin. Contains vitamin E, essential fatty acids and many other rich nutrients that work together. This oils anti-aging benefits combined with its potent antioxidant properties make it a powerhouse for keeping a youthful appearance.
Moringa: This amazing oil reduces fine lines, contains anti-inflammation properties, minimizes sun spots, controls oily skin, reduces dark spots, boosts several anti-aging benefits, helps build collagen and improves the overall appearance of the skin. Also great for supporting the skin barrier, which seals in hydration and protects the skin from environmental insults.